Première of ¡Oh guitarra! in Winterthur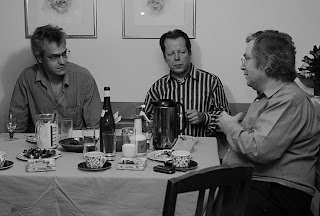 The guitarrist Christoph Jäggin. In the other image, me, the composer Harri Suilamo and Christopher Jäggin.
¡Oh guitarra!, the piece that took an eternity to complete and nearly put me off the guitar for life, received its first performance at the heroic hands of Christoph Jäggin, last weekend, Sunday 11 November, at Theater am Gleis in the town of Winterthur, near Zurich.
Christoph is one of those phenomena of the musical world who is not deterred by difficulty but, quite on the contrary, relishes a challenge, and, it seems, the hairier the better. When, having played extensively my first guitar work, Nana del insomne – a rather vertiginous affair – he suggested that I should write him a new one, caution suggested it would be best not to meddle with this fiendish instrument again. But caution's voice went unheeded and a new piece was promised. It took years to materialise, but Christoph waited. When I finally completed it, in January 2006, he was busy writing a magnum opus of research, a history of Swiss music for the guitar, and he was taking a break from performing. It was my turn to wait, and wait I did. The première supervened last Sunday, nearly two years after completion, so justice was done.
On arrival in Christoph's house in Turbenthal, I found that he had produced his own copy with fingerings and corrections of guitar technique. I had spent endless hours working out how best to realise my ideas on this complex instrument, but all the same Christoph had come up with more effective solutions in a number of places. I agreed gratefully in almost every case. In a couple of cases I begged to differ, but was no less grateful for his dedication and attention to detail. I wished I had had him nearby when I was writing the piece, so he could have helped to shape it with his technical advice. As it is, ¡Oh guitarra! has, I am sure, some of the awkwardness typical of the non-guitarist writing for the guitar, but less of it thanks to Christoph Jäggin, and less of it than it would have if I hadn't spent uncountable hours trying to work out with my own fingers how one might play each chord, line and combination of lines if one were a guitarist.
Christoph's programme was remarkable in depth of expression on the guitar. I was particularly struck by Harri Suilamo's Eidola, Fritz Voegelin's Nombres and another with a forgotten title by the composer Zelenka. The former two composers were at the performance, and I learned much from talking to them. Luckily for me Suilamo speaks fluent English and Voegelin fluent Spanish, having been a conservatoire professor in Colombia for several years.
A well as being wonderfully taken care of by Christoph and his wife Sayuri, I was accommodated by their daughter Misa and her husband Tenzin, both English speakers, intelligent, knowledgeable and inexhaustibly kind with me.