Biography
You probably know this, but may I point it out, just for context. Most of those flattering biographies you read in concert programmes and websites have been written by the subject himself. All that awestruck contemplation of his ground-breaking discoveries, all those admiring revelations on how early in life she started writing novels, all that conviction in declaring his uncontested position as one of his country's most outstanding artists – all that acclaim is, in fact, self-awarded. It would be more honest to remove the veil of coyness and to write in the first person, but one would feel uncomfortably vain to do so, even after a discreet sprinkling of the requisite "humble" in the text. We are, alas, the children of our time, and I am no exception. I will, therefore, give you some nuggets of information about my life, and I will do so, humbly, in the third person.
Agustín Fernández was born in Bolivia in 1958. Most of his professional life he spent in Japan (1980-83) and in the United Kingdom (1984-2019)
Following an early start as a folk musician (1969-72), which involved singing and playing in folk clubs such as Peña Ollantay and Peña Naira and winning Charango de oro in an interprovincial charango competition, he studied composition in La Paz with Alberto Villalpando while working as a violinist and later viola player at the National Symphony Orchestra. He then spent three years in Japan, studying violin with Takeshi Kobayashi and composition first with Takashi Iida and then with Akira Ifukube; in this period he supported himself with jobs at the Bolivian Embassy and as a language instructor. In Britain he studied at Liverpool University for an MMus and at London's City University for a PhD. After a four-year spell as Composer-in-Residence at Queen's University, Belfast, he taught at Dartington College of Arts, before being appointed lecturer in composition at Newcastle University in 1996 and, since 2007, Professor of Composition. He was head of music at Newcastle 2011-2014, remaining with the institution until his resignation in 2019.
He retains an active presence in Bolivia, returning for masterclasses and creative projects, such as a series of folk arrangements for the foundation Bolivia Clásica which, after its première in La Paz under Jaime Laredo, have become a recurrent presence in the orchestral repertoire. More recently he has embarked on a series of folk arrangements for Trío Apolo of Cochabamba, which also are performed frequently.
He has strong links with Romania, having made visits to Bucharest and Cluj-Napoca for performances and teaching engagements. In 2018  the Academy of Music Gheorghe Dima in Cluj-Napoca awarded him an honorary doctorate.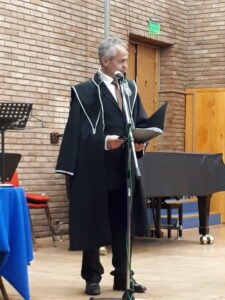 His commissions in Britain have included projects with London International Opera Festival (Teoponte), Royal Opera House's Garden Venture (The Wheel), Park Lane Group (Munirando), Royal Northern Sinfonia (Approaching Melmoth, Mystical Dances) and others. International commissions have included, among others, two from New Juilliard Ensemble (Peregrine, Río bravo) which were premièred at Lincoln Center, and a Koussevitzky Commission for String Quartet No. 2 'Sin tiempo', which was premièred in Philadelphia in 2007 and continued to be performed by the Momenta Quartet in the USA and abroad. His work is published by, among others, Filarmonika (Fort Worth, Texas), Tritó (Barcelona) and Tre Media (Karlsruhe).
A personal tragedy forced him to resign his academic post and abandon most of his artistic projects in order to concentrate on a judicial battle. It is ongoing.
___________
Probablemente usted ya lo sepa, pero me permito señalarlo, aunque sólo sea a manera de contexto. La mayoría de esas  biografías halagadoras que leemos en programas de conciertos y sitios de la red ha sido escrita por el sujeto mismo al que se refieren. Toda esa contemplación pasmada de sus descubrimientos, esas revelaciones reverentes de la temprana edad a la que empezó a escribir novelas, esa convicción al declarar su posición indiscutible entre los artistas más eminentes de su país – toda esa aclamación se la otorga, en realidad, el artista a sí mismo. Sería más sincero quitar el velo de falsa modestia y escribir en primera persona, pero uno se sentiría incómodamente vanidoso, aún después de salpicar el texto con la palabra mágica que hoy no falta en los discursos de aceptación de homenajes, "humilde". El hecho es que somos, para bien o para mal, hijos de nuestro tiempo, y yo no soy la excepción. Ofrezco, por lo tanto, algunos guijarros de información sobre mi vida, y lo hago – humildemente, por supuesto – en tercera persona.
Agustín Fernández nació en Bolivia en 1958. La mayor parte de su vida profesional transcurrió en Japón (1980-83) y en el Reino Unido (1984-2019).
Tuvo un inicio precoz como músico folclorista (1969-72) cantando y tocando el charango en peñas como la Peña Ollantay de Cochabamba y Peña Naira (La Paz), ganando además Charango de Oro en un concurso interprovincial. Más tarde estudió composición en La Paz con Alberto Villalpando al mismo tiempo que trabajaba como violinista y luego violista en la Orquesta Sinfónica Nacional. Estuvo tres años en Japón, estudiando violín con Takeshi Kobayashi y composición primero con Takashi Iida y después con Akira Ifukube. Financió sus estudios trabajando en la Embajada de Bolivia en Toquio y como instructor de idiomas en Komagane. En Gran Bretaña se tituló con maestría en música en la Universidad de Liverpool y con doctorado en la Universidad de la Ciudad de Londres. Tras trabajar cuatro años como compositor en residencia en la Universidad Queen's de Belfast, enseñó en Dartington College of Arts antes de ser nombrado docente en la Universidad de Newcastle (1995), luego docente superior y después catedrático titular en composición. Fungió como Director de Música en esa universidad entre 2011 y 2014, permaneciendo en esa institución hasta su renuncia en 2019.
Mantiene una presencia activa en Bolivia a través de clases magistrales y proyectos creativos, tales como la serie de arreglos de música folclórica para la orquesta juvenil de la fundación Bolivia Clásica, los cuales se han convertido en una presencia recurrente en el repertorio orquestal. Más recientemente ha iniciado una serie de arreglos de melodías folclóricas para el Trío Apolo de Cochabamba, los cuales también son ejecutados frecuentemente.
Cultiva una conexión fuerte con Rumania, habiendo realizado visitas a Bucarest y a Cluj-Napoca para asistir a ejecuciones de su música y realizar actividades pedagógicas. En 2018 la Academia de Música Gheorghe Dima de Cluj-Napoca le confirió el título de Doctor Honoris Causa.
En el Reino Unido ha recibido encargos del Festival Internacional de Ópera de Londres (Teoponte), Garden Venture de la Royal Opera House (The Wheel), Park Lane Group (Munirando), Royal Northern Sinfonia (Approaching Melmoth, Mystical Dances) y otras. Entre sus encargos internacionales están dos de New Juilliard Ensemble (Peregrine, Río Bravo), ambos estrenados en Lincoln Center, y un encargo de la Fundación Koussevitzky para escribir su Cuarteto No. 2 "Sin tiempo", que fue estrenado en Filadelfia en 2007 y continuó siendo presentado por el Cuarteto Momenta dentro y fuera de los EEUU. Sus obras están publicadas entre otros por Filarmonika (Fort Worth), Tre Media (Karlsruhe) y Tritó (Barcelona).
Una tragedia personal le obligó a renunciar a su puesto académico y a abandonar la mayoría de sus proyectos artísticos para concentrarse en una batalla judicial, la misma que se encuentra en proceso.