Valentine's in Belgrade
This diary begins in Belgrade on 14 February 2019. 
I am here on a mixed errand; for others as well as for myself. To some extent it is also thanks to others. Thank heaven there are people who remain steadfast, and who wish me well.

 
Tonight I am in the Belgrade Inn on Francuska Street. It was dark when I arrived so I could not appreciate very much of the city on the drive in, other than to admire the grandeur of some of the more traditional buildings along the way, to observe the beauty of its inhabitants and to remark on the contrast between imperial grandiosity and post-socialist, post-NATO bombings decrepitude. It feels like a place with a lively cultural life, one it would have been good to experience as a student. One of my main curiosities, to see the confluence of the Sava into the Danube, will have to wait until another time. Tonight I am too tired for walks, after a long transatlantic flight, a longish wait in Rome and a second flight in the rattly aircraft that brought me here. Tomorrow I will be leaving early.

 
My taxi driver, a garrulous character by the name of Milan, gave me a résumé of the city's economy and history, not letting his limited English curb his loquacity. He also gave me tips on the journey I am to do tomorrow, a six-and-a-half hour drive to Cluj-Napoca. When he dropped me off he insisted on coming into the hotel to make sure the receptionist gave me a map of the city, and he marked in the map the street he was adamant I should see tonight, Skadarska.
I was placed in room 310. After a much-needed shower, I obediently headed to Skadarska. It became clear why Milan had recommended it. It is a charming pedestrianised street where the uneven cobblestone makes you walk slowly, giving you plenty of time to assess the restaurant offer on both sides. It was not long before the one Milan had mentioned, The Three Hats (Tri Sesira), came into view. I walked past the restaurant to get a sense of the context, but when I saw a pole-dancing joint on the right I realised I had come to the seedy end of the street, so I turned around and headed back to Tri Sesira. An executive-looking man of a certain age gave me a indulgent welcome, as if to say "We don't really mind you being a lone diner on St Valentine's night". He even commanded me to move to the opposite side of the chosen table, from which I would get a better view of the sextet playing traditional music.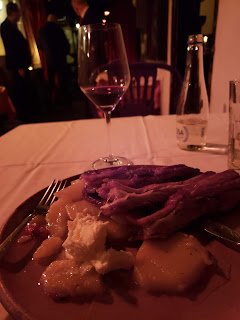 The meal was hearty, the Serbian red (Robunov Prokupac) very drinkable and the live music brought home how near we are to Greece. Although this combination of visual, aural and gastronomic elements – in a country that had always intrigued me – was undeniably soothing, the fact remained that the place across the table from me was empty on 14 February. That this struck me as unnatural was not only due to the shock of seeing before my eyes the end of a life. It was much more than just the interruption of a habit: it was an aberration. It was a laughable token of how far things had gone. Here I was, sitting in a restaurant in Belgrade, having travelled eighteen hours from Brazil, having fought battles on several fronts, having written letters, reports and notes, having pleaded, objected and demanded, having read tomes on the relevant issues, having, above all, paced like a caged lion in wait of the desired dénouement – or even an undesired one, but a outcome of some kind, an end to this farcical limbo halfway between existing and unexisting. And here I was, still having achieved little more than my own survival. Still alone, still banished, still anchorless in a sea of uncertainty. And still proclaiming my allegiances in the echo chamber of my thoughts, because if aloud it would fall on deaf ears, some from not wanting to hear and others from being prevented from hearing.
Valentine's alone in a strange place – that could be a handy cliché if I chose to use it, but I won't, I haven't, you haven't read it. It would be untrue to use it. Untrue because I am alone only insofar as that place across the table is empty. I don't feel alone. My mind is overcrowded with the inescapable presence of three people and five animals who are deeply rooted in my life. And untrue because no place in this world is a strange place. There are only places that are too new for you to feel at home, or too old, or simply too inhospitable. Belgrade is none of these things.

 
Once back in room 310 I hastened to bed, urged by the accumulated tiredness of many hours' travelling. But my thoughts kept me awake until light began to filter through the crack between the curtains. Not the best conditions to set off on a drive across the Carpathians.

 
Originally published in Diary of Exile