18 August 2007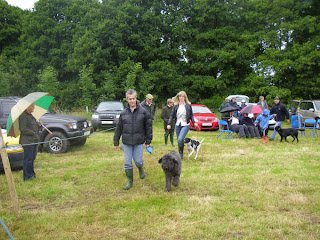 Saturday 18 August 2007
Falstone Show day. K decided we should enter Fluffy in the dog class, Any Other Dog category. Following the discontinuance of the Terrier Race on grounds of Health and Safety, it seemed that the dog presence in the show was set to have a lower profile than hitherto. She thought it would be good for the show if we unleashed our Bouvier on it. Who knows, he might elicit a smile or two. In the morning I gave the Bouvier a good grooming, or as good a one as a dog as shaggy as this can undergo. He submitted to it with good grace, as if he knew it was a special occasion.
Once there, Fluffy became predictably excited, especially at the density of the dog population on the show ground. Every time he saw a dog he would make an impetuous dash for it, often causing its owner such consternation that we had to shorten the lead and hold on to it quite firmly. In frustration Fluffy would pull at his lead with such force that once the collar came off over his head. I went to the dog accessories stall and bought a smaller one.
Falstone turned out to be a smaller affair than the only other display of its kind I had been to before, the Alwinton Show. Its scope was further diminished by the ban on transport of animals decreed in the wake of the latest foot and mouth scare. There were no sheep and no cattle. Only some stalls selling produce, a tractor display, a few tents where prior to our arrival prizes had been awarded to the best cake, the best painted egg, the best jam and so forth.
The dog display attracted interesting characters, not only the four-legged ones being entered but also the handlers and spectators. The judges carried themselves with an air of impressive authority, their faces strained by the responsibility they bore in the knowledge that their verdict was going to be incontestable. They choreographed the handlers around the ring, they motioned us one by one onto the platform in the middle, then after a hands-on examination of the dog they would direct the handler away towards the side of the ring and back onto the platform, and then away again. Next the judge would call the three finalists onto the central platform, give them an appraising look and choose the final winner. All this was conducted with a cheerful solemnity.
When it came to the Any Other Dog Category and Fluffy walked onto the central platform, the adjudicator admitted to some puzzlement as to the kind of beast he was judging. He gave Fluffy third prize. No comment.