Falstone Show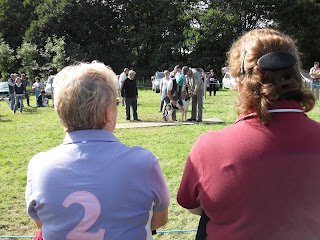 Following his fall from grace at last year's show – when I had to fumble frantically for the poo bag in front of the dog judges and circled by a mortifyingly sympathetic audience – Fluffy was not allowed back to Falstone Show this time.
Instead I took the family. There was no shortage of things for the children to eat (sausage sandwiches from Dunterley Farm), to watch (dogs, sheep, tractors, people) and to play on (bouncy castle!). And they even happened on youngsters they knew from their infuriatingly extensive social circle. The bar was not unduly undersupplied either, and it was my pleasure to see W there chatting to old farmer friends, and I hope a wordless wave from a distance was enough to signal this approval. The day did not smile on W for much longer, but that is not for me to expand on; suffice it to say his plight broke my heart.
Once more I delighted in the seriousness with which the participants take their dogs – a relatively easy thing to do now that I did not have my Bouvier nemesis with me – and the splendid coiffure displayed by the sheep, betraying long nights spent by their owners washing, combing and possibly, dare I say it, dyeing.
A surprising number of acquaintances turned out to take their photography seriously. AB, for example, had bought an impressive-looking Canon SLR which she was taking on its first outing. Some others I vaguely recognised were also sporting equipment of sufficiently professional aspect to make me envious. But I must not underestimate the humble compact Samsung I have just acquired. The dramatic beauty of where I live and the momentousness of my children's lives at this time made me think enough is enough: to borrow a camera at every portrayable opportunity hampers spontaneity; I must have a camera again. And who knows, even this Northumbrian Diary might benefit from a little more graphic content.
Falstone Show's Committee has a new chairman. Although the old one in his time did a splendid job too, I have to salute the impeccable choreography last Saturday. Friendly, well-trained stewards guided you with a strong hand to your parking space, even telling you what motoring manoeuvres to perform to get into it. The food and the drink stayed plentiful all the time, and the whole configuration worked like a well-oiled machine. Well done N.
Bellingham, watch yourself this Saturday.